WE ARE THE RESULT OF SYNERGIES AMONG TRANSFORMATION FACILITATORS: CONSULTANTS, BUSINESS AND TECHNOLOGY EXPERTS, COACHES AND TRAINERS, WHO ALL SHARE THE SAME VALUES... WHO ARE SEEPED IN THE CULTURE OF CHANGE AND ECONOMIC INTELLIGENCE. WE AIM TO HELP COMPANIES MEET THE CHALLENGE OF DIGITAL TRANSFORMATION, ADJUST TO THEIR NEEDS AND PROVIDE THEM WITH AN OUTSIDE VIEW.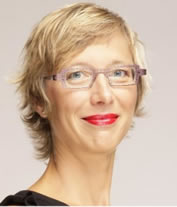 I founded S2L Consulting in 2014 to support leaders, managers, employees and teams to have a better understanding and experience of their company's digital transformation, by providing them with a well-informed external view, a mirror and a vector for development.
After 15 years with IBM, where I developed an expertise and know-how in change management, human capital development and management of complex projects I decided to embark on the adventure of entrepreneurship. Keen for new experiences, a new professional adventure and to experience the creation of a company: the founding stages (market research, business model, legal and financial aspects…) and prospecting.
S2L Consulting works with a network of motivated associates, engaged and experts in their field.
Sandrine Louis - Founder of S2L Consulting
our mission
MEANING TO TRANSFORMATION
OUR ASPIRATION
MEETING CHALLENGES
OUR PROMISE
TO OUR CUSTOMERS: FACILITATE YOUR TRANSFORMATION AND CREATE VALUE. TO OUR ASSOCIATES: CO-DEVELOPMENT
OUR SPIRIT
PROMOTING A WIN-WIN RELATIONSHIP
OUR VALUES
TRANSPARENCY, CUSTOMER-FOCUS, ADAPTABILITY, CURIOSITY, CREATIVITY, QUALITY, FUN